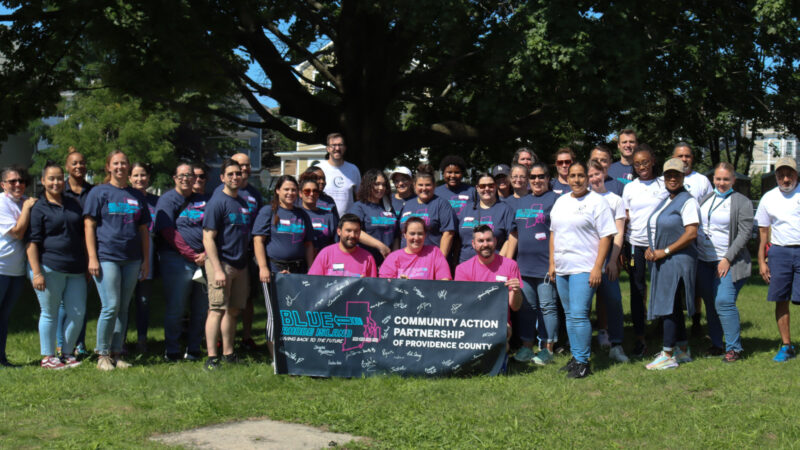 CAPP received a mid-September burst of energy courtesy of 27 volunteers from Blue Cross and Blue Shield of Rhode Island on Friday the 16th. The team from BCBS of RI came to CAPP for a day of service – joining over 450 of their coworkers in giving back to the community at 14 different Rhode Island nonprofit organizations. BCBS of RI calls their day of service Blue across Rhode Island, and CAPP was selected to be one of the partner organizations for the first time in the 11th year that BCBS of RI has run a Blue across Rhode Island Day.
Honored by our Blue across Rhode Island selection, CAPP put together four different volunteer projects at our location in South Providence:
1) a team of volunteers in CAPP's Food Pantry sorted, stored, and cycled a delivery from the RI Food Bank, repaired and repainted walls in the Food Bank, and painted a mural on the Food Pantry wall;
2) volunteers built shelves for CAPP's Dress to Progress clothing closet and inventoried clothing donations from our entire Blue across Rhode Island volunteer team;
3) volunteers assembled 100 care packages with basic needs and school supplies for area high schoolers in need and 75 care packages with basic needs supplies and home enrichment activities for area seniors; and
4) a team of volunteers built and decorated raised gardening beds for CAPP's senior and youth enrichment programs and did light landscaping cleanup in the lawn of the office building.
Impacts of the Blue across Rhode Island work were immediately felt, as members of CAPP's senior program gathered on the 16th to plant flower bulbs in the new raised beds. Those bulbs will hibernate through the winter and flower in the spring of next year – ready for the gardening programs to begin. Those same seniors also received care packages put together by our volunteers. The school care packages will be placed in supply closets in schools for students to access when in need. CAPP residents who use our Food Pantry will see the improved space and new mural at the next Pantry Day, and the Dress to Progress closet will officially open in early October!
Through the generosity of our friends at Blue Cross & Blue Shield of Rhode Island, CAPP's programs have been strengthened and beautified. We are so deeply thankful for the time and energy put forward by our volunteers. Looking forward to next year and another Blue across Rhode Island!